Having difficulties creating a cake? We've got this! Now you can Cake Like a Pro! Cake 

Basic tools for decorating a cake: turntable, icing smoother, offset spatula and bench scraper.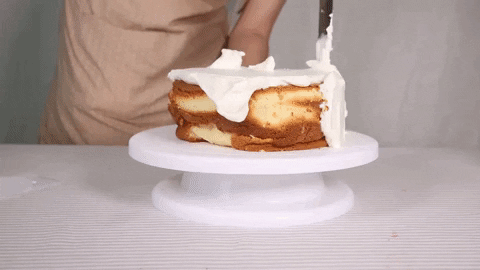 ✔️Good for Beginning - Simple tools for fondant cake DIY, easy to use for both professionals and beginners.
✔️Food Safe - Made of 100% FDA approved high-quality food-grade plastic, non-sticky, non-toxic and BPA free.
✔️Wide Application - Some parts also good for sugar gum paste, marzipan, cupcake, and even clays sculpture.
✔️Easy to Clean - It is Dishwasher safe and durable.
✔️Made of durable plastic and can be many years used. 
Material: Food Grade Silicone 
Top Diameter: 27cm 
Bottom Diameter: 23cm 
Height: 7cm 
Length: 27cm 
 
Kit Includes: 
1x Cake Turntable
3x Icing Smoother
2x Icing spatula
Scraper

To achieve super-smooth edges on both the crumb coat and final layer, hold a scraper in your dominant hand and then use the other hand to grip the turntable so you'll be able to turn it as close to one complete rotation as you can. 

 

Ombré cakes

Mix food coloring into each of the bowls. Frost the top of the cake with an offset spatula. Fill a piping bag fitted with a large, round tip with the lightest shade and pipe around the edge of the cake. 

Soothing Cake Edge

Place it against the side of the cake. You want to hold it straight up and down, as straight as possible. Hold your icing smoother in the same place and use your other hand to turn the turntable. Continue to turn the turntable, scraping the icing to make perfect designs on the side or top of cakes.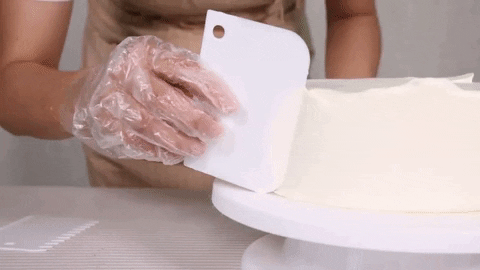 FREE WORLDWIDE SHIPPING!
How long will it take to receive my order?
Due to high demand, your product may take up to 1-3 weeks to arrive (depending on location). 
We source products from all over the world to bring you epic offers and the lowest prices. This means sometimes you have to wait a little longer to get your order but it's always worth it!
Customer Support
Any doubt? Contact us! We have 24/7 customer support via Chat, Ticket and Email Support. Please contact us if you need assistance.